How online thrift stores are changing the fashion industry
[ad_1]

Over the last ten years, thrifting has grown from Salvation Army drop-off boxes to Instagram accounts dedicated to reselling vintage clothes.
The fashion industry is changing, with dedicated thrift and vintage stores run online at the forefront of the evolution.
A
study
done by second-hand outlet Reluv in 2021 claimed at least 72 per cent of Australians purchased a second-hand item in the previous 12 months.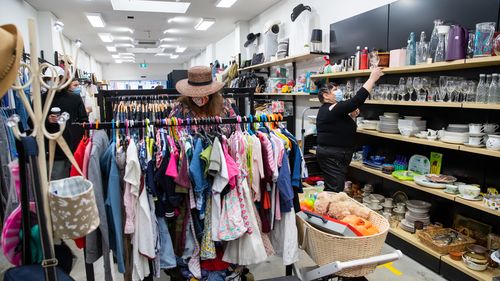 At least 52 per cent of shoppers bought clothes from op-shops like St Vinnies, 33 per cent used online platforms and 15 per cent thrifted at markets or dedicated vintage stores.
The demand for online, accessible thrift stores has never been higher. Just last year, US online second-hand designer goods store The Real Real made close to US$300million through solely online sales.
Vintage fashion's new face
Cara Weinstock always had a love for fashion, but as an 18-year-old high school student she couldn't afford expensive, high-quality items.
So she turned to thrifting instead. Sifting through piles of clothes at markets and op shops paid off – and she quickly realised she could sell rare items she found while thrifting. 
"I got to a point where I was buying stuff that I knew wouldn't fit me, but they were such good deals… like $20 for a second-hand Versace dress… who wouldn't?" she said.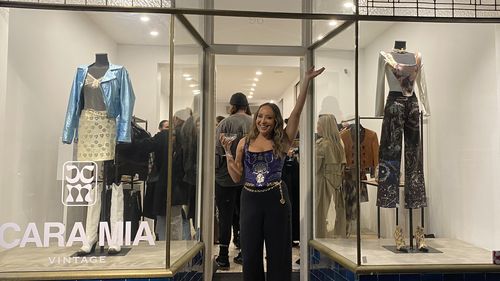 After a corporate detour as a practising lawyer, she opened up her second-hand vintage store on Instagram in 2012. Eleven years later, she has 24.9K Instagram followers.
Instagram has become a popular platform for vintage thrift stores to promote their clothes, but for Weinstock, she had no other option.
"That (Instagram) was it, in 2012 that was the big social media platform to promote a fashion business on," she said.
"Instagram at that point was really a great tool for promoting a business, it was a lot easier to grow organically and reach an audience. I think now it's a lot harder to do that."
She also opened a website but continued to use Instagram to promote her store. Today, Cara Mia Vintage has become one of the most reliable places to shop for second-hand designer in Australia.
The store is completely run online, with the rare pop-up shop appearing every so often. When Cara Mia Vintage started, it was one of the first vintage stores to break through to the online market.
"I have experimented with other apps, I think the best way to do it is to maintain your own website and to use Instagram as a promotional tool," she said.
"If you decide to sell solely on Depop for example, what happens if one day Depop decides to shut down your account? It's the same thing with Instagram."
Now, there are hundreds of dedicated vintage and second-hand shops in Australia, with most of them using social media as a means of advertising.
"Social media has made it easier for people to access affordable and second-hand fashion," Weinstock said.
"It's even good for educating people on brands they might not have heard of before…that information is more accessible now."
Thrifting's role in combating fast fashion 
In 2018, the fashion industry was responsible for 4 per cent of the world's total carbon emissions – that's more carbon released than the whole of the United Kingdom, Germany and France combined, Reluv
Reports
.
Upcoming designer and founder of sustainable slow fashion brand Jas the Label, Jasmine Ypermachou, says that thrifting is key to stopping fast fashion's environmental damage.
"Thrifting starts a circular fashion model and allows for discarded fast and slow fashion pieces to be re-used and repurposed by others," she said.
"When we feel a piece is no longer 'our style' or lacks timelessness, thrifting allows for fast fashion pieces to hold more value and it means less clothing items are being bought, slowing the damaging fast fashion cycle."
The Australian fashion industry is the second biggest consumer of textiles and clothing in the world. Each Australian sends about 23 kilograms of clothing to landfill annually, totalling over 800,000 tonnes of clothes going to waste every year, Reluv
reports
.
A
YouGov study
showed that at least 24 per cent of Aussies have worn an item only once before throwing it out.
Over the past five years, dedicated vintage and thrift shops have disrupted the fashion industry. In 2022, the antiques and used goods market racked in an estimated $3.1 billion and saw a 2.2 per cent growth from 2018, according to
IBISWorld
.
However, the increased demand for good-quality second-hand clothing has seen the price point of thrifted items increase significantly over the last decade.
To help meet demand, St Vincent de Paul Society today opened its first inner-city store in over ten years in Surry Hills.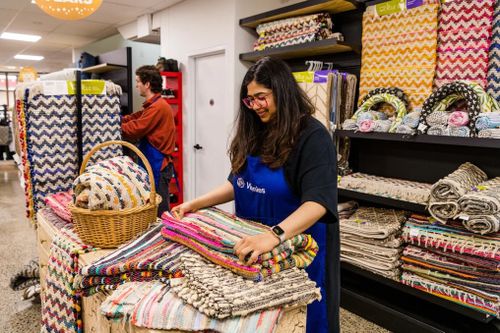 NSW acting chief executive of St Vinnies, Yolanda Saiz told the
Sydney Morning Herald
that the new store with help meet demands while providing to vulnerable communities.
"It's more significant than just the commercial presence, it's about social presence. We're a place that people turn to for help, and we will never walk away from that," she said.
Just last November, 
The Guardian
reported that low-income families may struggle to find affordable clothes in op shops due to the increased demand and the cost of living prices affecting traditional thrift stores.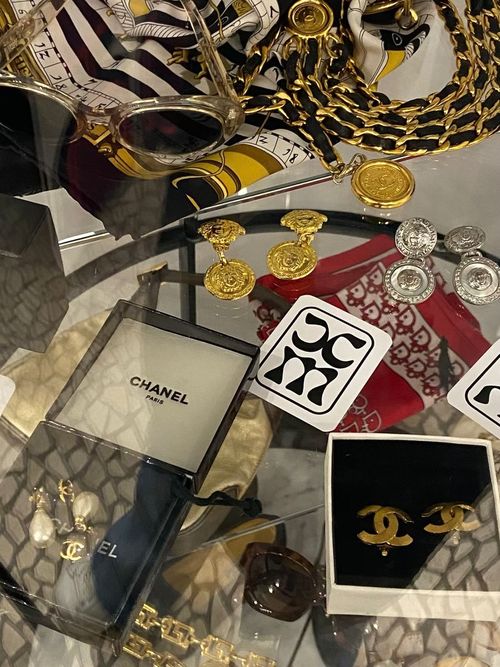 "I do think the situation has changed – it's harder to find high-quality vintage clothes for decent pricing today, it's not impossible but it is harder", Weinstock said.
Ypermachou said consumers should be conscious of lower-income families when thrifting or reselling items.
"Just have more awareness for those in need about the options they have and create safe spaces online to share with these communities," she said.
"There are so many second-hand circles and online groups to be a part of, where second-hand clothes are sold for cheap."
Even if thrifting is not for you, consumers can still minimise their carbon footprint by purchasing new clothes in an environmentally conscious way.
"You don't need to be buying 50 pieces of fast fashion, buy less but buy better quality that will last you longer," Weinstock said.
[ad_2]